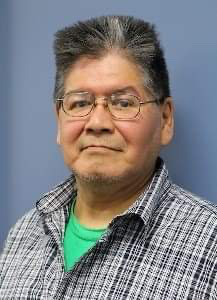 Wilfred Buck is a member of the Opaskwayak Cree Nation. He obtained his B.Ed. & Post Bacc. from the University of Manitoba.
As an educator Wilfred has had the opportunity and good fortune to travel to South and Central America as well as Europe and met, shared and listened to Indigenous people from all over the world.
He is a husband, father of four, son, uncle, brother, nephew, story-teller, mad scientist, teacher, singer, pipe-carrier, sweat lodge keeper, old person and sun dance leader.
Researching Ininew star stories Wilfred found a host of information which had to be interpreted and analyzed to identify if the stories were referring to the stars. The journey began… The easiest way to go about doing this, he was told, was to look up.
"The greatest teaching that was ever given to me, other than my wife and children, is the ability to see the humor in the world"…Wilfred Buck